Aris Raissis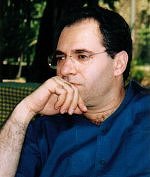 Aris Raissis was born in Cairo in 1962 and is of Greek origin. He studied at The Chelsea School of Fine Art and The Byam Shaw School of Fine Art and graduated in 1985. During his years at Art College he concentrated on figurative painting, portraiture and still-life. From early on, the artist's aim has always been to reinstate the techniques of the Old Masters, whilst at the same time, selecting contemporary subject matter. His fascination for expressionism and realism is reflected in his work as a whole.

In 1986 he exhibited a self portrait in the Royal Society of Portrait Painters. He had also exhibited in a number of prestigious galleries in London. From 1994 he was contacted by the British Federation of Old Masters Society for portrait commissions.

From the early 1990's till the present day, Aris Raissis has been active in his field of art. Through his determination in creating quality work, he was asked to exhibit particular works in renowned hotels in London such as The Mayfair, Claridges Hotel, The Dorchester, The Intercontinental and the Grosvenor Hotel.

His commissioned portrait of HRH Crown Prince Alexander of Yugoslavia was unveiled at London's Claridges Hotel in 1995, in the presence of H.M. Queen Elizabeth II and other Kings and Queens and heads of state from around the world.

One of his most successful undertakings was a commissioned portrait, which he painted in the summer of 1997 on location at The Leighton House Museum in Kensington. The work was commissioned in the Middle East and the background setting at the museum was inspirational. It was a three quarter length portrait of a young lady dressed in Middle Eastern costume.

In 1999 Aris Raissis' painting called "Arab Heads" was exhibited and auctioned at the London Dorchester Hotel for a charity event. The gala evening was in aid of "Children with Special Needs in Egypt" and was graced by the presence of the First Lady of Egypt, H.E. Mrs. Susanne Mubarak and HRH Princess Alexandra. In recognition of his artistic contribution, the Ambassador of Egypt H.E. Mr. Adel El-Gazzar and his wife H.E. Mrs. Heba El-Gazzar hosted a Gala evening in honour of Aris Raissis at the Egyptian Embassy.

A new art competition took place in London at the Mall Galleries in June 2003. The competition was called "Not the Turner Prize" and it represented realistic and figurative art. The competition was hosted by the Daily Mail Newspaper and it represented everything that the original "Turner Prize" competition did not. Out of ten thousand entries Aris Raissis' painting "Arabesque" painted in 1997 was chosen as one of the four hundred finalists to be exhibited.

Aris Raissis is presently working on a series of portrait commissions for Greece and Egypt, as well as taking a number of students under his tutelage. He teaches his students the techniques of the Old Masters on a one to one basis, always paying close attention to quality and sensitivity.

Aris Raissis works mostly upon commission but also creates certain works from personal inspiration and imagination. His paintings and drawings can be found in many reputable homes throughout the world, including Egypt, Italy, Mexico, France, Spain, Greece, Switzerland, Norway, USA and UK.